Manifesto For Tomorrow was an experimental youth engagement program that made participants the authors of their own declarations of beliefs, intentions and motifs. The program ran in the spring of 2017. I.C.E., the Art Gallery of New South Wales and an alliance of education partners developed and delivered a youth program of artistic research and interpretation, production and presentation that asserted individual and collective identities through the development of a two manifestos; one made by students from Auburn Girls High School and one by Granville Boys. Thereby, Manifesto for Tomorrow provided vulnerable and disenfranchised youth from Western Sydney access to resources to both study and produce alternative narratives of representation and identity.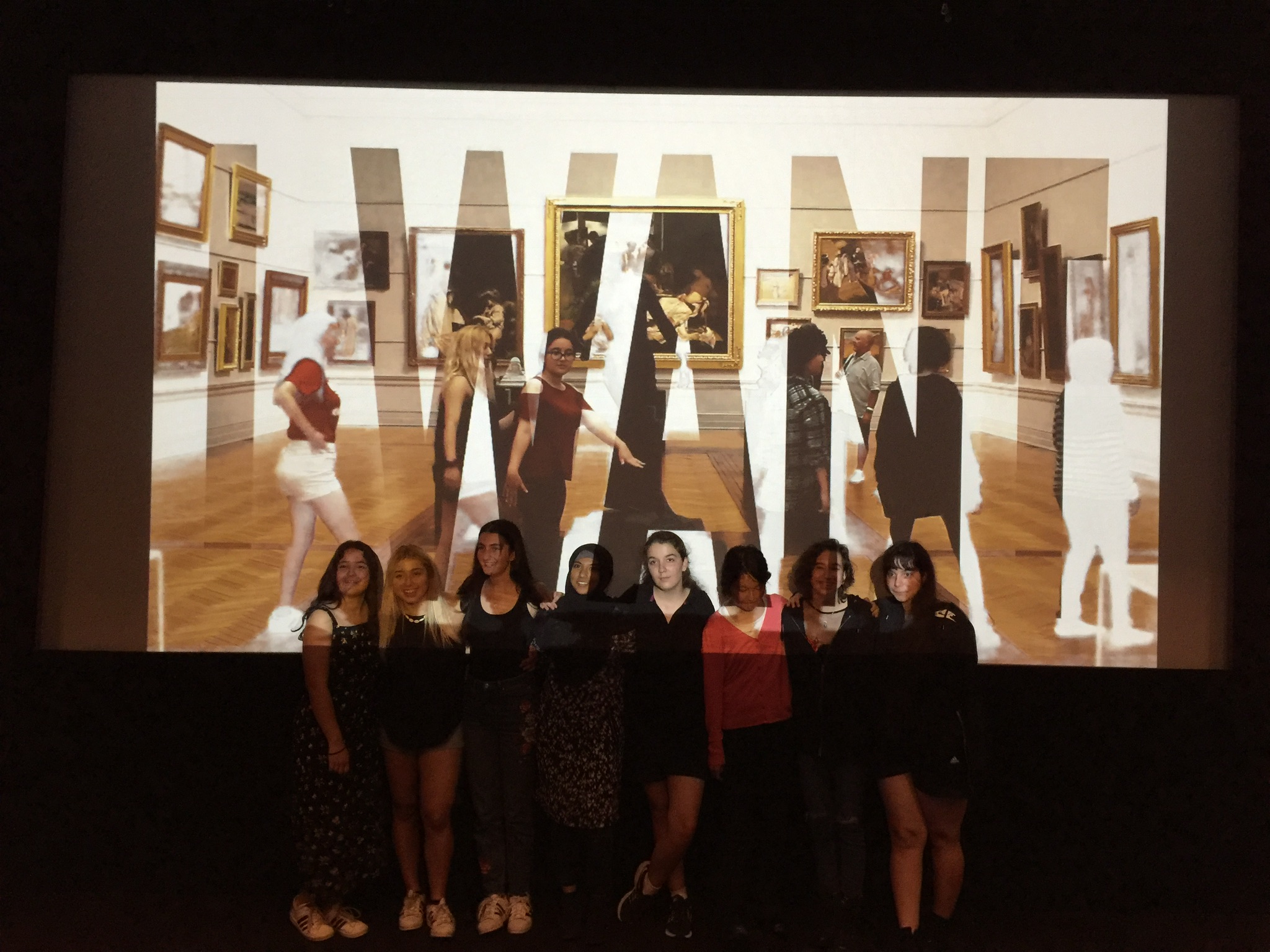 The focus lay on Sydney Modern Project, the Gallery's expansion project that will see the space transformed for art, live performance, film, learning, study and cultural experiences. Involved were Gallery staff and a select group of provocateurs from a range of disciplines to help students develop their own utopian vision for the future of the Gallery. The group was guided through a journey of investigation, idea generation and development. They were afforded unprecedented access to the building, and the plans for the Sydney Modern Project.
Significantly, Manifesto for Tomorrow simultaneously fostered constructive critique and engagement with the AGNSW. Using I.C.E.'s Mobile Digital Studio the program facilitated a comprehensive suite of creative development and production, skills development and training opportunities. At the completion of the program the groups' manifestos were presented to high-ranking members of the gallery. In addition, both digital artifacts that were created as manifestos was presented to the board in January 2018.
The Process
The two-week program followed a three-step structure:
information and research (days 1 – 5),
exformation and data mapping (days 2 to 7), and
creating and collaborating (days 6-10)
This set-up is typical for design thinking, integrated into participatory storytelling or community arts overlay.
In short, the project exposed the students to four different examples of art manifestos of the 20th and 21st Century (Neen, Fluxus, Minnesota Declaration) as well as four different types of galleries (Maryland County Museum, Sammlung Boros, MoNA, and Sandham Memorial Chapel). Visiting two other galleries on day 3 gave students a physical introduction to a variety of museums, so that they could more critically compare their experience at the Art Gallery of new South Wales.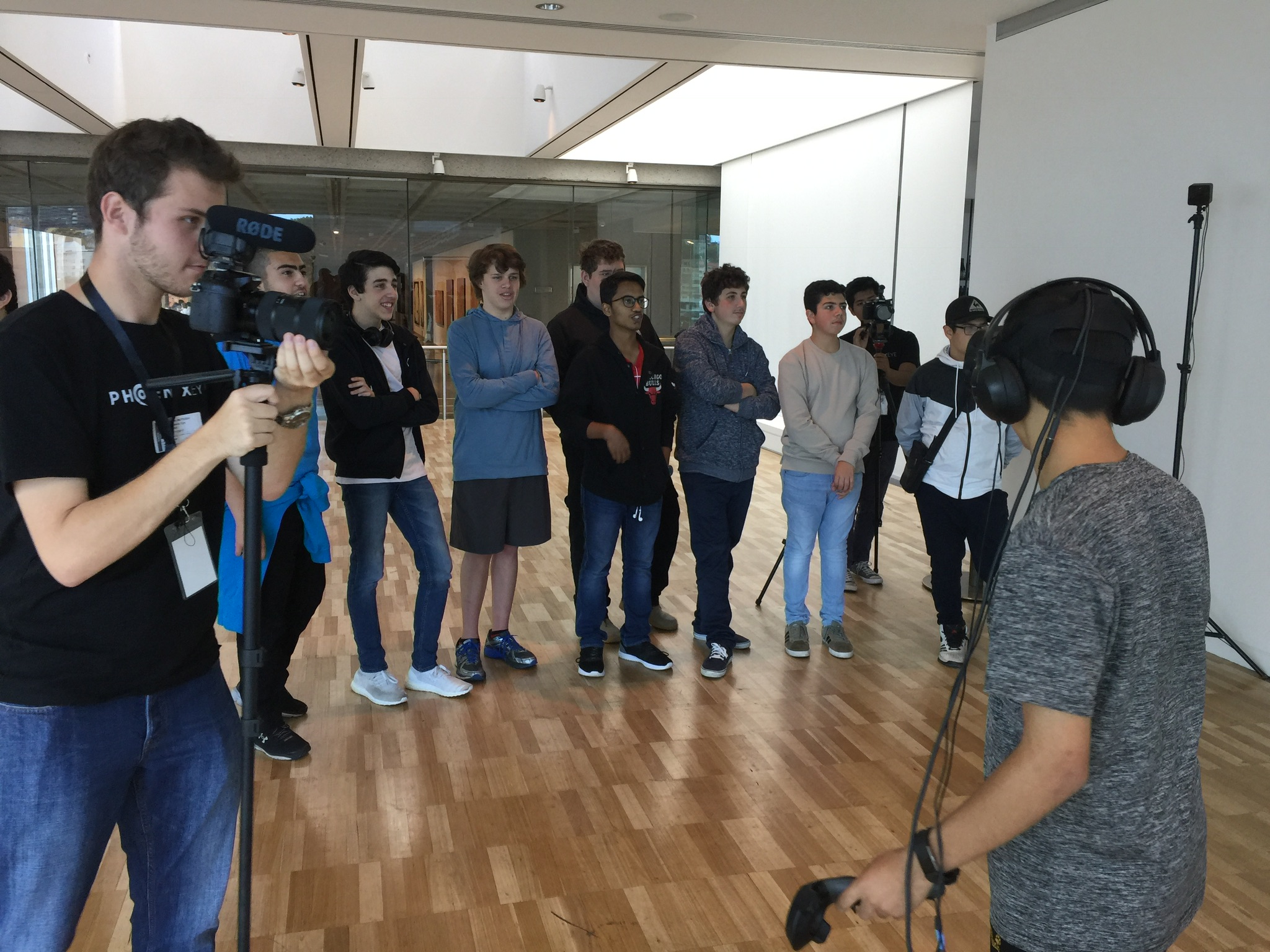 The students' manifesto statements were collaboratively researched, mapped, focused and formulated with the help of my role as a Lead Provocateur, meaning that I'd help students learn to research like an anthropologist, critically questioning, using all their senses, and sense-making when bringing information together. Artist Educators from AGNSW joined us each day in order to facilitate the co-creation of the artifact that contained the students manifesto statements.
In order to introduce participatory research methods, we played a blind-folding game in the park, an exercise in sensory ethnography to sharpen their perception when they investigate both gallery environment and artworks. To train documentation, we asked the students to write down their insights and observations in their personal notebooks. Based on these notes, we then did mapping exercises, using methods taken from design thinking (affinity mapping and proper use of post-it notes). We suggested that this way of working was advisable throughout their whole research at the gallery. Throughout the course of the two weeks, we also encouraged students to utilize their ipads to document their experiences using video and audio recording.
Day 1
What's a Manifesto
What's a Gallery
Sensory Data Collection
Ethnographic Research and Mapping
Day 2
Storytelling
Power Point intro Art Gallery of New South Wales (AGNSW)
Visit Artist Educator from AGNSW
Day 3
Visit State Library and Barracks
Day 4
First day at AGNSW
Presentation Sydney Modern and site visit
1h walk-through the gallery. What do you see, hear, feel, say?
Day 5
1/5h walk through gallery. What do you see now?
Preparing questions for deputy director
Meet AGNSW deputy director Maude Paige
Day 6
Empathy mapping
Formulating Manifesto statements
Video and Audio Recording
Day 7
Refining manifesto statements
Choreography
Video and Audio Recording
Day 8
Choreography
Video and Audio Recording
Refining Manifesto Statements
Audio Recording
Day 9
Meeting Board of Trustees
Video and Audio Recording
Meeting with AGNSW Director
Audio Recording
Day 10
Final presentation and celebration
Production Roles
1 Lead Producer
1 Lead Community Liaison
1 Lead provocateur
1 Guest provocateur
2 Lead Artists
5 Artist educators
2 Film team
Technology and Working Materials
The students were each equipped with an ipad (lent), notebooks, and a pen in a branded (sustainable material) tote bag. Since we collected the bags each day, all materials and bags were tagged with their names. The bags and ipads were prepared with stickers, so that students could quickly add their names. This worked fast and well.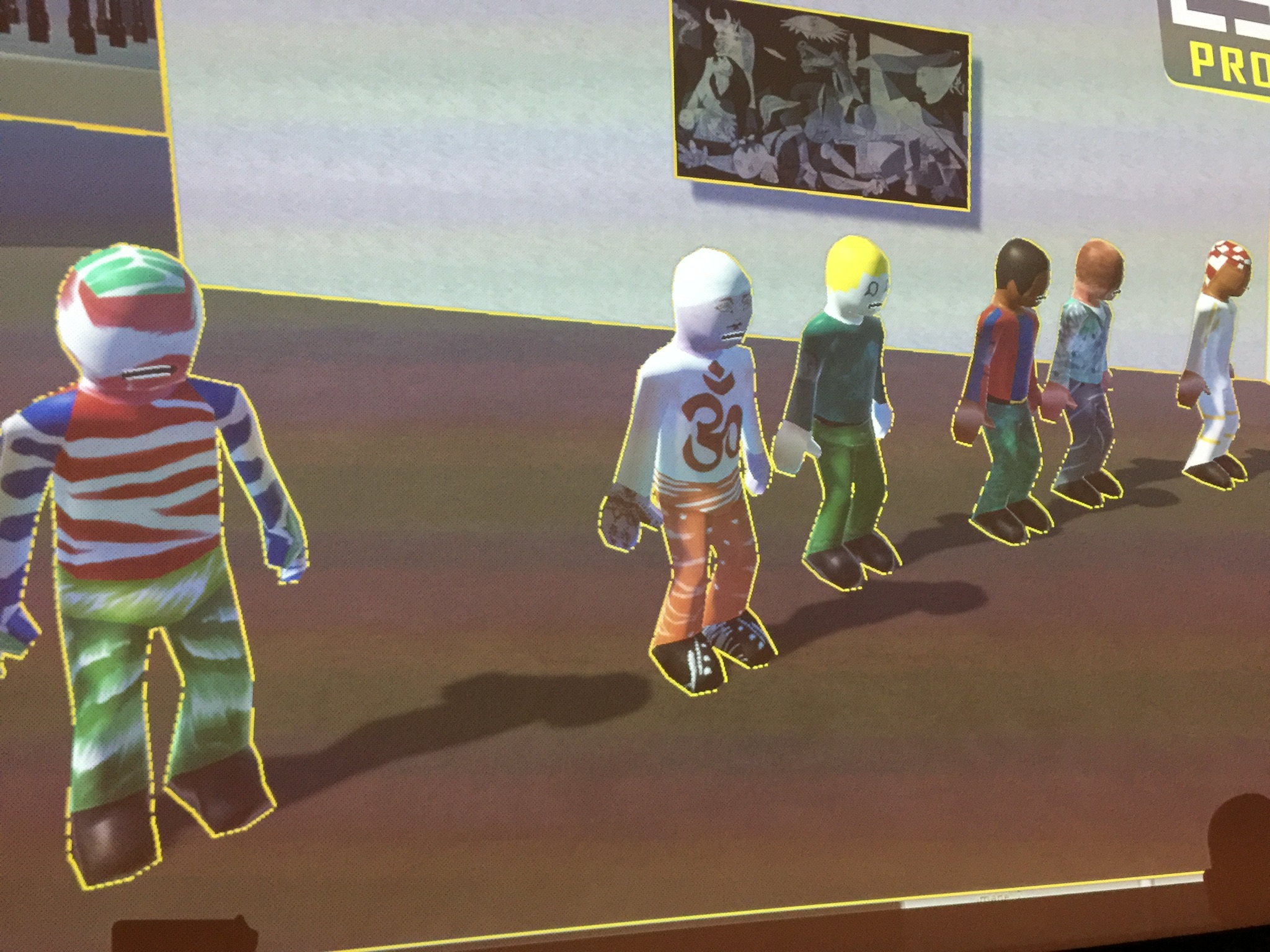 We encouraged the students to use both digital and paper when walking through the gallery, instructing them to video or audio record and also write down their overall observations, insights and points of interest in their paper notebook (including references to their video or audio material). Specifically, to get an experience of the technology that created their manfesto artifact, the students got to experiment with apps on ipad to learn video editing. Specifically, to get an experience of the technology that created the environment for their manifesto, the students got to try a landscape experience on Vive.
Manifesto Artworks
With a group of 15 girls, the video artist joined for the whole of two weeks to capture the students' work on video and co-create a piece of video art that portrays each students' manifesto statement. The statements were accompanied by a performance that each student co-created with a dancer/choreographer.
With the boys, a digital artist co-created a Vive Game with the students. He specifically created the game environment based on models taken from plans for the Sydney Modern extension of the gallery. Avatars were inserted into this environment, and each student brought one of the avatars to live with their manifesto statements as well as one action that the avatar would trigger once approached by the player. Josh, together with Illustrator Andrew Yee, created paper templates for avatars. These templates allowed the boys to give shape and colouring to their personal avatars as they would show up in the Vive Game.
Student Engagement
Generally, engagement was high and steady. The students responded well to abstract ideas and engaged in philosophical topics. They noticed political statements that architecture made (i.e. European "old" art being exhibit in "old-fashioned" architecture; or indigenous art was located in the centre, but also cornered by European and colonial art). Once alerted to their senses, they described their environment with rich sensory information. They described the sound of the space, the floor, their peers, as well as smells and were intrigued by textures. From the first day in the gallery it was obvious that the students took a liking to a full body experience of art, which was reflected in their manifesto statements.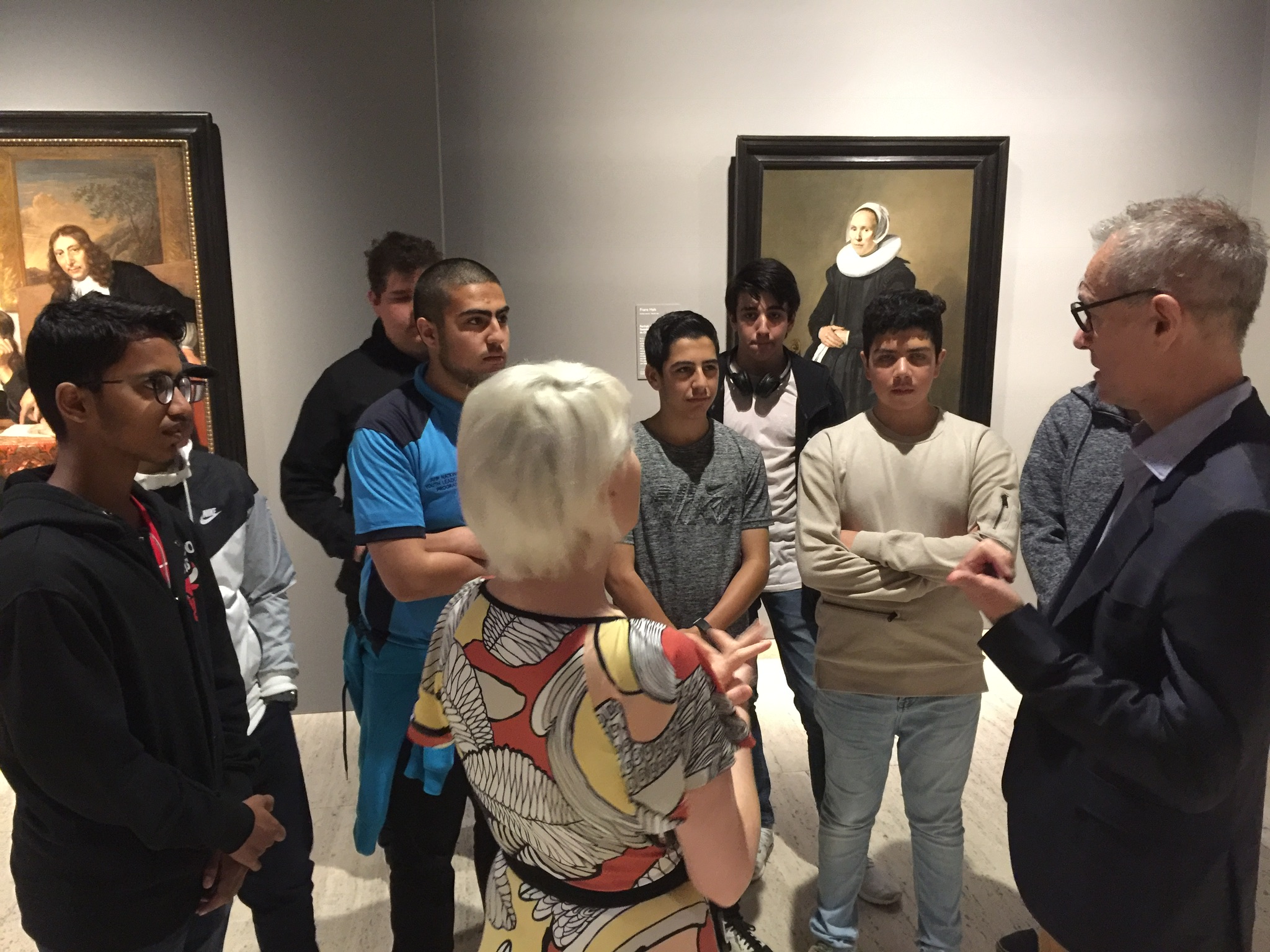 I recognised disengagements, some of which were rather due to shyness (i.e. when meeting the Gallery Director, Deputy Director, or Board of Trustees). For me as a facilitator, there was only one situation when I found it slightly more difficult to keep their attention. The situation was when I explained a designerly or ethnographic way to research. I prefaced that it was Uni-content and I saw their curiosity rise. However, I kept it short as I realised that speaking about the origins of a certain way of working wasn't as relevant to them as using the time to try it out.
There were moments when students showed their private video clips, which I found very engaging, although it might be interpreted as disengagement. The reason why I found it engaged is that they showed the facilitators and each other what they were into in terms of creativity, which kinds of fan or video art they loved, or what they had created themselves.
Special moments were when we saw the students collaborating to help each other with their manifesto artworks. For example, one student wanted to visualise what she meant by "fantasy" (as opposed to the mythological art she saw in the gallery). She asked another student, who is great at drawing and digital design, to create an anime character for her. They both worked on their shared vision to the end of the workshop.
Facilitation and Engagement
Taking a group of young students to a place beyond their familiarity and asking them to try things beyond their previous knowing requires a lot of one-on-one consultation, and therefore takes a high number of facilitators. When co-creating manifesto statements, the video artist, choreographer, Julia, Jonathan and myself were all engaged with students at the same time.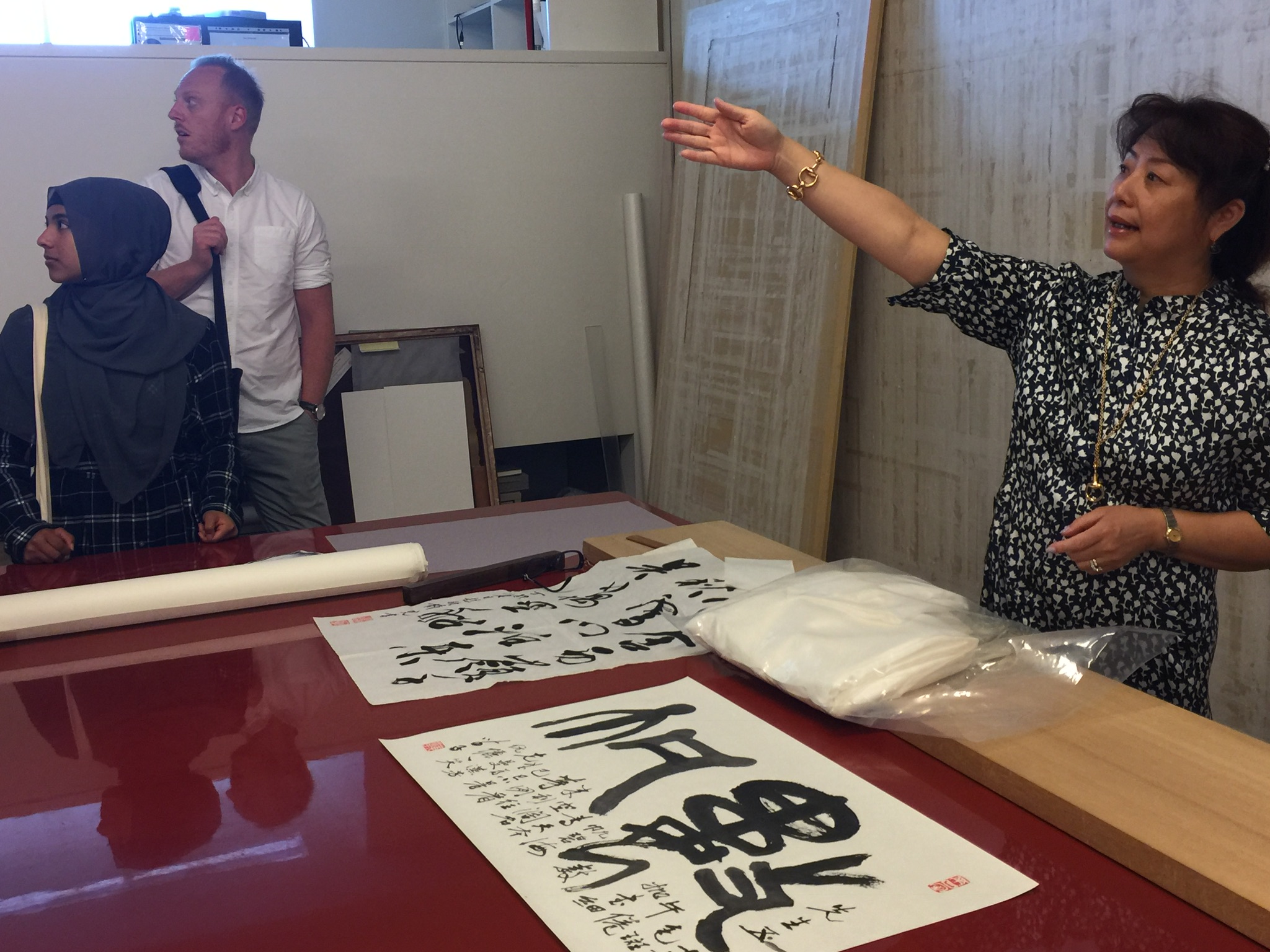 Engagement with gallery staff was driven by AGNSW Community Liaison Officer. Every day, he brought new people from the gallery to visit the students. All staff we met knew who we were, they asked the students questions, and had chats. Creating special environments, like meeting high ranking personal and trustees showed the students that their observations mattered. For both groups, we had around 30 visitors to see the students' media manifestos. That was an incredible gift to the whole group, students, facilitators and artists, to honour and celebrate their efforts. The amount of insight and hospitable treatment we received by gallery staff was outstanding.
Workload for students
Overall, I thought they stretched themselves successfully, which includes giving off the impression of it being too much at times. The "too much" was, however, related to abstract understanding and feeling of "grasping" or "getting a grip", rather than too much content.
Facilitating the right workload was challenging at times, because we needed to get the group to have reached certain steps and content in order to meet representatives (Q&A with deputy director, board of trustees) or artists that were scheduled for particular time frames. Overall, I found that all artists were attentive to each other and the work that was required from everyone. The atmosphere was light and easy.
Outcomes
The final presentation for the girls' group was in Centennial Auditorium. The video artist worked long hours over night to finalise a video loop that showed the girls manifesto statements including their performances. Their audio-recordings of 30-second statements were put on mini-loudspeakers and placed in the room, which gave a soundscape of 8 voices speaking at once.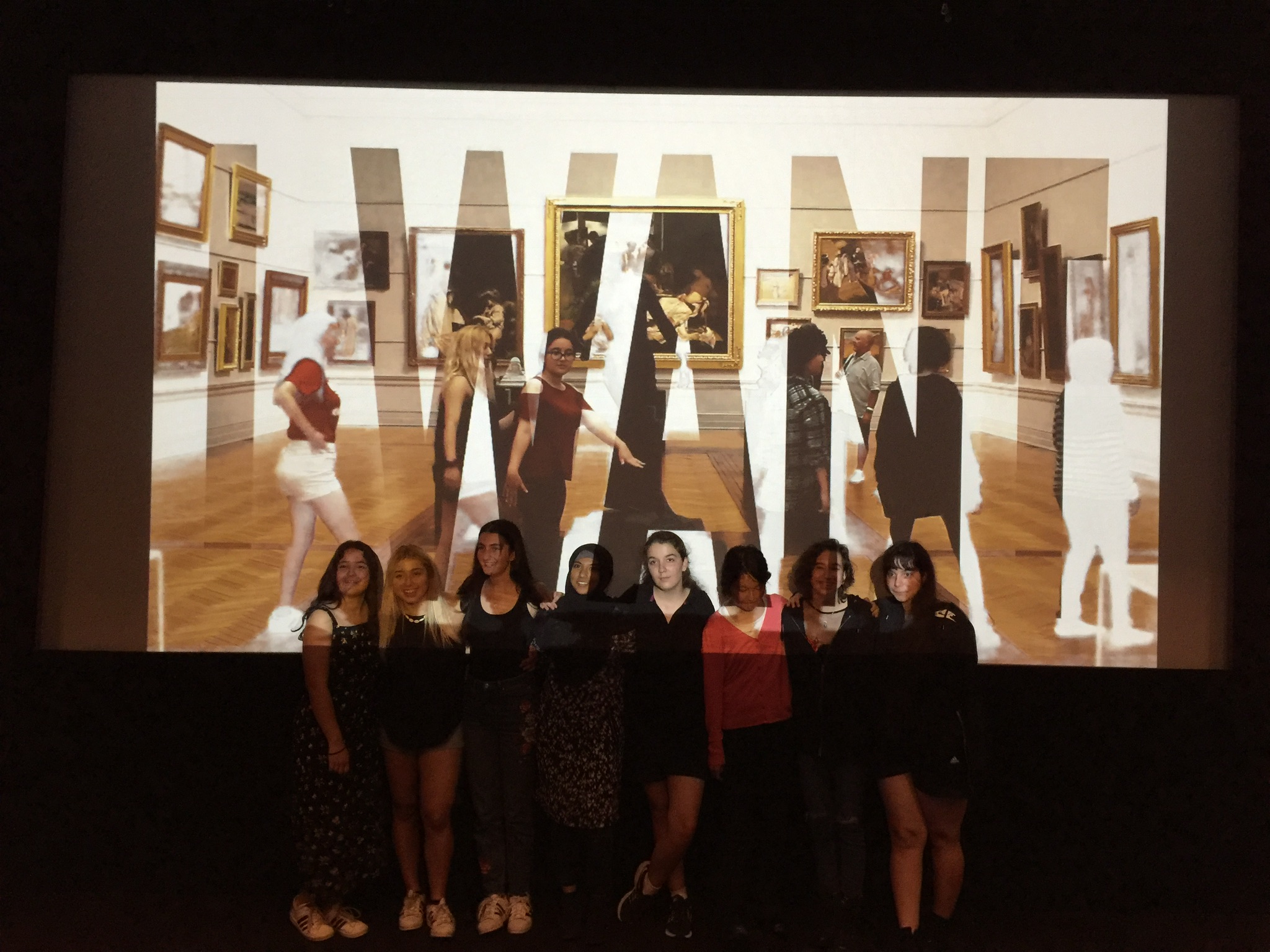 The students were sat in the front row of auditorium, each with a seat empty next to them. They had their ipads loaded with their individual work and performance and could take their respective loudspeaker and show each guest individually what they had created.
The final presentation for the boys' group was in the gallery's Function Space with a view to the Wooloomoolloo and the Sydney Modern site. One corner was set up with a screen and Vive equipment, so that the students as well as gallery staff, including the deputy director, were able to access the Vive Game manifesto. The artist worked long hours over night to finalise the Vive Game that contained the manifesto statements of each of the students. The showing attracted about 25 gallery staff.
The atmosphere of both presentations was like a Vernissage: people sitting, standing, walking, watching, engaging, voices, laughter, chatter, artistic visual on the screen and curious testing of Vive technology in the background.
Some data on what the students saw
The girls responded strongly to lighting, detail and positioning of artworks. Words they used to describe their feelings were: astonished, captivated, amazed, inspired, peaceful, but also tired, feet aching, crowded, and cold. Below is a list of their data collection.
The below statements are on what the students observed after their first walk through the gallery.
Attention to detail
Positioning of artworks
Symmetrical hanging of artworks and how they were made focal points
Still life skin tones
Gallery kept the old design
People talking
Contrast in colours between rooms
When the lighting was bright it put me in a joyful mood
Colours soft and smooth
Many Aboriginal artworks
Irony of Aboriginal art in the middle of European art
Surprised voices
Purposely put lighting
Change of smell
Differently sized canvasses and canvas borders
Some exhibitions were hard to find
Details carved into stone sculpture
Original materials
Concave wall
The beginning of the second week was marked by exercises that helped the students to organise their data and become clear on their manifesto statements. Among other things, we used an Empathy Mapping tool – taken from Design Thinking Research – to differentiate what we felt, heard, said and saw.
 What was said:
Can I touch this?
I'm lost
OMG, there's more over there!
That must have taken ages
What is this?
Why is this art?
Come here let's take a picture
I could do this, too
I can't take my eyes off this
There's an echo
What's fantasy what's mythical?
So much effort
So detailed
I don't think this is good enough for art
Wow that's amazing
This is so intricate how did the artist do this?
Is there more artwork like this?
I can do this how is this art?
I wonder how long it took to make that
That's so cool
Not enough artworks here
The European art is the most beautiful in the gallery
I don't like this
Wow this is really interesting
I really like how this is placed
Why are artists paid so much for a one-coloured canvas?
What was heard
Sometimes there was complete silence
Footsteps
People walking
The sound of tapping on marble staircase
The sound of the wooden floor
The creeks of the wooden floor
People stating their opinion
The sound of silence
People laughing and talking
A video playing
Sometimes the sound of artworks
Slow soft music
Let down
Echo
The different use of music in some displays
Whispers of people talking about art
What they saw
Some things were not placed right
Different positioning of artifacts and paintings
Colourful art
Colours
Differently coloured walls
Detailed artworks
Black walls
Aboriginal and contemporary art
Dim and bright lighting creating a flow
Less natural light
Spotlight on artworks
Architecture varies as you move around
Different styles
Many indigenous works in different sections
A variety if different things
How things were placed
Strategic lighting
Sculptures
How they felt
Less lighting put me in a peaceful mood
I felt very captivated
I felt very astonished
I felt very inspired
I felt lie I was there in the artwork
I was interested
My feet aching
I felt my body aching in pain
I felt hot in some rooms
I felt my existence
Curious
The whole environment felt so peaceful
I felt calm and collected
I felt in love
I felt my body melting in pain
I felt inspired
I felt interested
I felt amazed
I felt peaceful
Cold air
The walls
The scent of food being served in the kitchen
Tired
Mood change from different colours
I felt crowded
Overall, the students were curious, critical and appreciative. Their perception was very sensory, which made them focus on the visceral experience of art in its surrounding. The students' final manifesto statements were transferred into a video artwork, directed and edited by an AGNSW artist educator.
The boys approached their observations partly sensory – like perceiving colours and sound – mostly, however, they commented on building-architecture, cultural aspects and appropriateness of artworks. Their attention span differed. Some were noticeable more attentive when they had an opportunity to "make" things (as opposed to conversation). Others were reluctant to write notes into their notebooks. Having ipads engaged most positively, however, sometimes using technology (i.e. having their personal phones on them) led to distraction, and as a result loss of focus energy in the room[1]. Overall, the students were curious, critical, and appreciative.
The students' first impressions were largely around the urban setting, architecture, nature and acoustics. The below statements are on what the students observed after their first walk through the gallery.
The beginning of the second week was marked by exercises that helped the students to organise their data and become clear on their manifesto statements. Among other things, we used an Empathy Mapping tool – taken from Design Thinking Research – to differentiate what we felt, heard, said and saw.
 What was said:
I'm bored because we see the same things over and over again over the course of a week
This artwork looks cool
This is dope
I will come back
That painting should not be here
Cool
Very nice
This artwork looks cool
I heard silence
I heard artist educators speak about art
Who is this by?
What does this mean?
Why is there no sport here?
What was heard
talking
slight chatter
chatter
digital art noise
calming sound
quiet music
songs
ambient noises
silence
What they saw
The Lotus (digital artwork)
James Cook Statue
A family that looked depressed
Colourful artwork
A cryptic painting
Some beautiful aboriginal artwork
Modern art
Installation of new art
A variety of artwork
Big art
An area still under construction
A scary or hallucinating painting
Inappropriate art and nudity
How they felt:
Calm
Interested
Fun
Amazed
Contemplative
Irritated
Impressed
Depressed
Calm
Sad
I felt like I was in a different world
The students' final manifesto statements were transferred into a Vive VR Game, directed and edited by a digital artist.
Here are the students' statements and how their claim manifested in the virtual gallery:
THIS IS THE 21ST CENTURY. WHY ARE WE STILL FOCUSED ON FINE CLASSIC ARTWORKS?
I walked into the gallery and what I saw was boring to the eye. I want artworks such as anime as they are much more interesting to my generation. Would you want to walk into the gallery and to only find contemporary and traditional? NO! We expect everything to be in the art gallery. We are not in the 20th Century. We are in the 21st Century. We have the freedom to judge and to talk our what our minds want, so why aren't we changing what obviously needs changing in the art gallery of NSW!
BRING SCIENCE TO LIFE WITH ART THAT ENHANCES MY SENSES AND CREATES AN IMMERSIVE ENVIRONMENT.
Both science and art are human attempts to understand and describe the world around us. We need to bring science to life, with art that enhances our senses and creates an immersive environment. Sound. Sound is as effective with your eyes closed. I wonder how high the frequency of this sound is and how long the wavelengths are. Sight. We use x-Ray's to see through the human body. But imagine if you were able to see through the artworks, distinguishing the different elements used. Touch. Imagine touching an artwork with your eyes closed. Feeling all the different fibres used in the fabrics. Smell. Smell can be intoxicating and evoke any type of emotion.
I WANT GALLERIES TO SHOW INDIGENOUS ART IN AN ENVIRONMENT THAT REFLECTS THEIR NATURAL AND CULTURAL ORIGINALITY.
I want the gallery the gallery to bring nature inside. I want to see art in an environment that is not man made but is natural. Art should be shown in an environment that reflects cultural context.
Environment
reflecting
culture

WHY IS ART SHOWN IN HIDDEN ROOMS? I WANT CLEARER ARCHITECTURE.
When I first walked through the gallery I was surprised that beautiful artworks were kind of hidden. There was one particular place. The upper Asian gallery. It looked like I wasn't supposed to go in there. So I felt like a trespasser. But what I saw in there was awesome. I loved that there was a film and there was other art that used electric light. The works that emitted light drew me in and made me feel connected. I also want the room to draw me in and make me feel invited.
Inviting
Trespassing
Space
Light
I WANT THE FANTASY GENRE TO BE PRESENTED IN THE GALLERY
Fantasy art is all over the Internet and is loved by many people so it really surprised me to find very little fantasy art in the gallery. I want fantasy characters such as dragons, elves and so on, not mythological gods from Ancient Greece. I want to see the cool ideas artists have come up with, for example, the characters they have created, what the characters can do, and which animals the artist combined to give the character character. These fantasy figure represent the deep psyche of my generation.
Mythology
Fantasy
Dragons
Elves
PERMANENT DIGITAL ART
The art gallery of NSW occasionally hold digital art exhibitions, but I want them to be permanent. I want an area dedicated to digital art so that I can come to the gallery knowing I'm going to see something that I'm so passionate about.
I WANT TO EXPERIENCE EACH ARTWORK WITH SOUNDS RELASTED TO THE WORK'S HERITAGE.
I want to be immersed into everything that is displayed on the walls by listening to the mood that the artworks are trying to portray, so I can have a better multi-sensory experience.
Multi-sensory
Experience
Listen
I WANT HOLOGRAPHIC GUIDES
I realised that information on artworks comes in different forms, like plaques and audio guides. Still, to me there's something missing, like another layer of engagement. I think that holographic guides would be fun, especially when they're dressed up fitting to the theme or if they interact with you.
Interact
Theme
Holographic
Oh hello, I'm a representative of the digital age. We need more digital art, don't you agree? By using interactive technology, we can make interactive art super fun and that means more people of the digital age will come to see it.
In the gallery shows up: VR set pops up and you can take it to land exactly where you were
I wish I could be in the gallery with a digital paintbrush to change all the art to my liking.
In the gallery shows up: digital paintbrush allows player to change the paintings
We modern age people seek a more technical experience with galleries and museums, so I was at the gallery and didn't get a good understanding of some of the paintings, so I thought if they would make the visits using more technology, maybe we would gain deeper understanding of history and artistic practice and the art work.
In the gallery shows up: artworks become accompanied by screens and digital info boards
 My greatest hobby is boxing and when I go to the art gallery I'd be thrilled to feel motivated to be tough, and I feel more confident experiencing artwork related to boxing, which can help more people to understand the reality of boxing as a sport. Maybe the art gallery could even exhibit on the art of boxing and bring people like me to the gallery.
In the gallery shows up: boxing rink appears and avatar invites player to fight
I'm a man of the future, I desire one thing: I desire digital masterpieces that address all the senses, such as sound, touch and smell as well as sight. Those who oppose the idea are relics of the past. I demand change because the future IS change.
In the gallery shows up: gloves and headset
Hello I'm Selim, a South-Arabian prince, you know what we need in this museum is more Middle Eastern art. This could attract more visitors from the Middle Eastern cultures. We want historic paintings from the Middle East or Golden Ages, or from the war between the crusades and the Muslims. I'll donate a ten million to the gallery. 25% have to be used to build a new building for Middle Eastern art.
In the gallery shows up: money falls from the ceiling and Middle Eastern art appears
Visitors should be able to form their own perspective, rather than be led to see a certain perspective by people other than the artist. We will get rid of the content cards that have not been written by the artists themselves.
In the gallery shows up: artist plaques disappear from paintings
Hi, I want society to experience art for what it is and how it functions in our day-to-day lives. For example, expressing emotions, imagination, and creativity. It can unite and separate people. Digital art can be watched and made by everyone on their own device. I want more of that in galleries.
In the gallery shows up: Mobile device appears
I want the gallery to incorporate more modern aspects of artworks. So that it gives the gallery a feel that younger people would be attracted to and that they would appreciate at the same time. Adding more varied colours to the walls that can match the artowrks could give the gallery a new feel and would make it feel more expansive and memorable.
In the gallery shows up: more colours pop up on the walls
I'd like the gallery to add more ancient and digital art, because I feel the younger generation would like ancient Australian or for example Egyptian art. I would also like digital art as younger people will naturally be attracted towards it. Also, as the gallery is taking up a renovation of such magnitude, this is the right time to cash in like laser shows, light and sound shows.
In the gallery shows up: laser show in oil tanks
Hi, have a look around you. Wouldn't it be cool this gallery was in a forest?
I want more art that gives me the feeling of being surrounded by nature through virtual reality.
In the gallery shows up: some 3D nature simulations with sound both music and nature pop up
Hi, I'm Aamer and in this gallery I'd like to see an arcade, like a room that offers Arab-themed interactive digital art, that engages me to be active and curious, that inspires me to find out about a mystery and enter the art gallery to have an adventure.
In the gallery shows up: VR/AR arcade