The Wish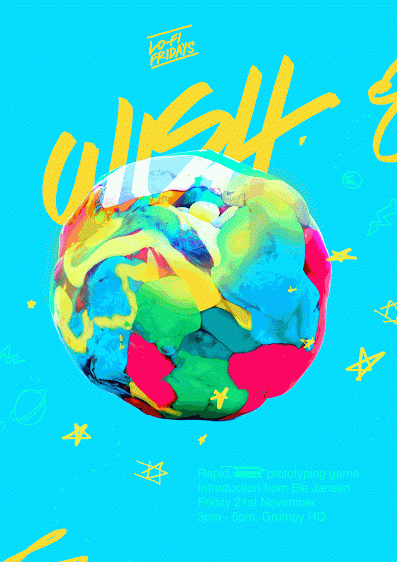 Group size: 6-18 pax
Playtime: 1.5h
What:
The game is both a workshop and a learning experience. One facet of the workshop is to rapidly prototype a shared solution and campaign for your design question. Another effect is experiencing the pitfalls and enablers of collaboration, learning to guide individuals to bridge siloes and how ideas, jargon, and needs can be integrated across multiple domains. Most importantly you learn how to use story as a utility to design projects and life.
How:
This card game is a rapid prototyping workshop for 6-18 players. A think tank meets social hackathon meets live action roleplaying game to tackle wicked problems in a short space of time. You play in 3 groups – storytellers, designers, and the future. Your challenge is to co-design how people will use technology in the future. In one hour you'll invent and prototype an innovation, and you'll write a story about how your ideas come into the world.
The narrative design of the workshop is modelled after Joseph Campbell's Hero's Journey. Following this narrative, the workshop game resembles a typical design process. Story and design draw on the same principles to create meaning. For example, a story follows four steps: challenge, conquer, change and prevail; and a design process follows four similar steps: analyze, ideate, develop, test. Bringing these together is unique and empowers each participant to be a hero, creating their part of the future.
Played at: Google Creative Labs, Parsons New School of Design NYC, OUIShare Paris, re:publica Berlin, USC LA, Vivid Ideas Sydney
Download prototype: LDS_The Wish Game_Manual and Cards.
Read more here and here.

PolyPoly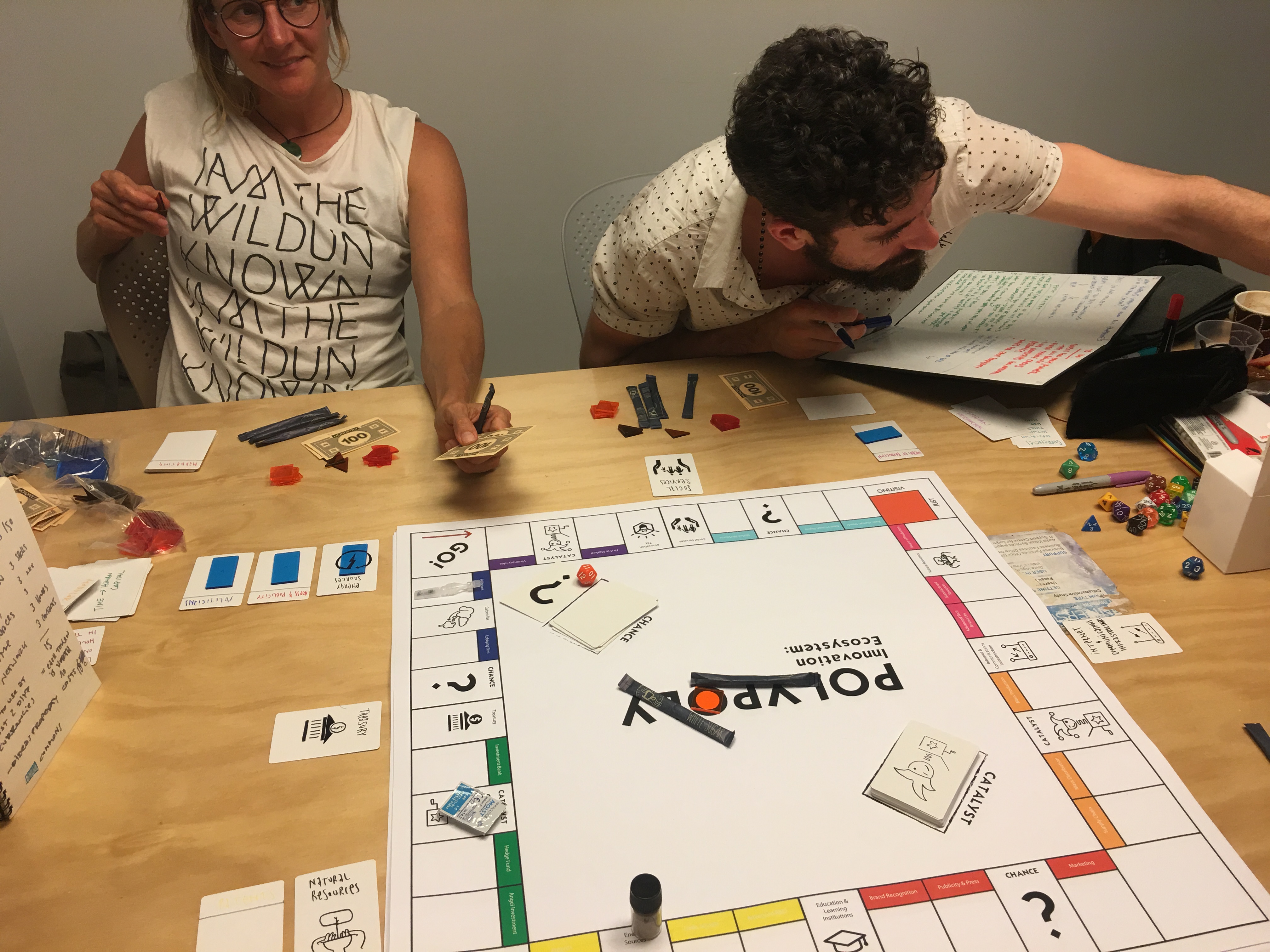 Group size: 3 – 6 pax
Playtime: 1-4h
What:
We hacked Monopoly to offer a collaborative game that educates about commons-based business modelling.
How:
The game is played like monopoly, but we changed the properties to ones that are systemically related to the intersection of economics and politics. The community chest contains cards on resiliency and chance cards pose challenges to growth and profit maximisation. There are five currencies, for example, reputation, time, and natural resources. The game is designed to be hacked further by its players, so that new rules  emerge by way of storytelling. The game win is when all properties belong to the commons and the players begin regenerating spaceship earth.
This prototype is an ongoing collaboration with FutureScouts.

The Famous 5 and ???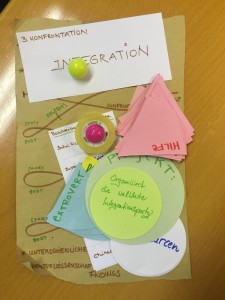 Group size: 5 – 8 pax
Playtime: 10 mins – 1h
What:
We designed this storytelling card game to aid groups in companies or cooperatives to tap their empathy with each other and solve resilience problems of either their collective behaviours or projects.
How:
In Bavaria, researchers from different faculties at 18 universities got together to develop their field of study through a lens of "resilience". They worked for a year and came together in groups of 2 or 3 to then design games based on their research. That means, when playing this game, players will learn about resilience and will have to tap their empathy, not to win or gain points but to increase the spirit and joy around the table.
The game starts with a shared problem or design question. Then, prompted by either danger or solution cards (based on resilience factors found by the academics), each player takes a turn to tell a part of an emergent story relating to the key word they drew. The prompt will be put on the table, so that all cards lie open in the end. Bit by bit, players draw cards and decide whether they can be matched ("solve a danger"). In rounds, players takes a new card per turn and continues the story, using the keyword they drew and their imagination. The story is built successively around the table, always relating to the project or problem at hand. This way, the group has a conversation that might solve some of the open questions of their problem in a playful way.
To juice up the game, there is a buzzer that can be hit when someone guesses what character trait (empathy) another player projects.
The round ends when all cards are matched on the table. The next round is based on a new problem or design question that relates to the larger topic. The game ends when players decide they have played long enough. 🙂
Here is a play manual pdf (German): gruppe_1_5-freunde-und-3-fragezeichen

The Tech Pentagram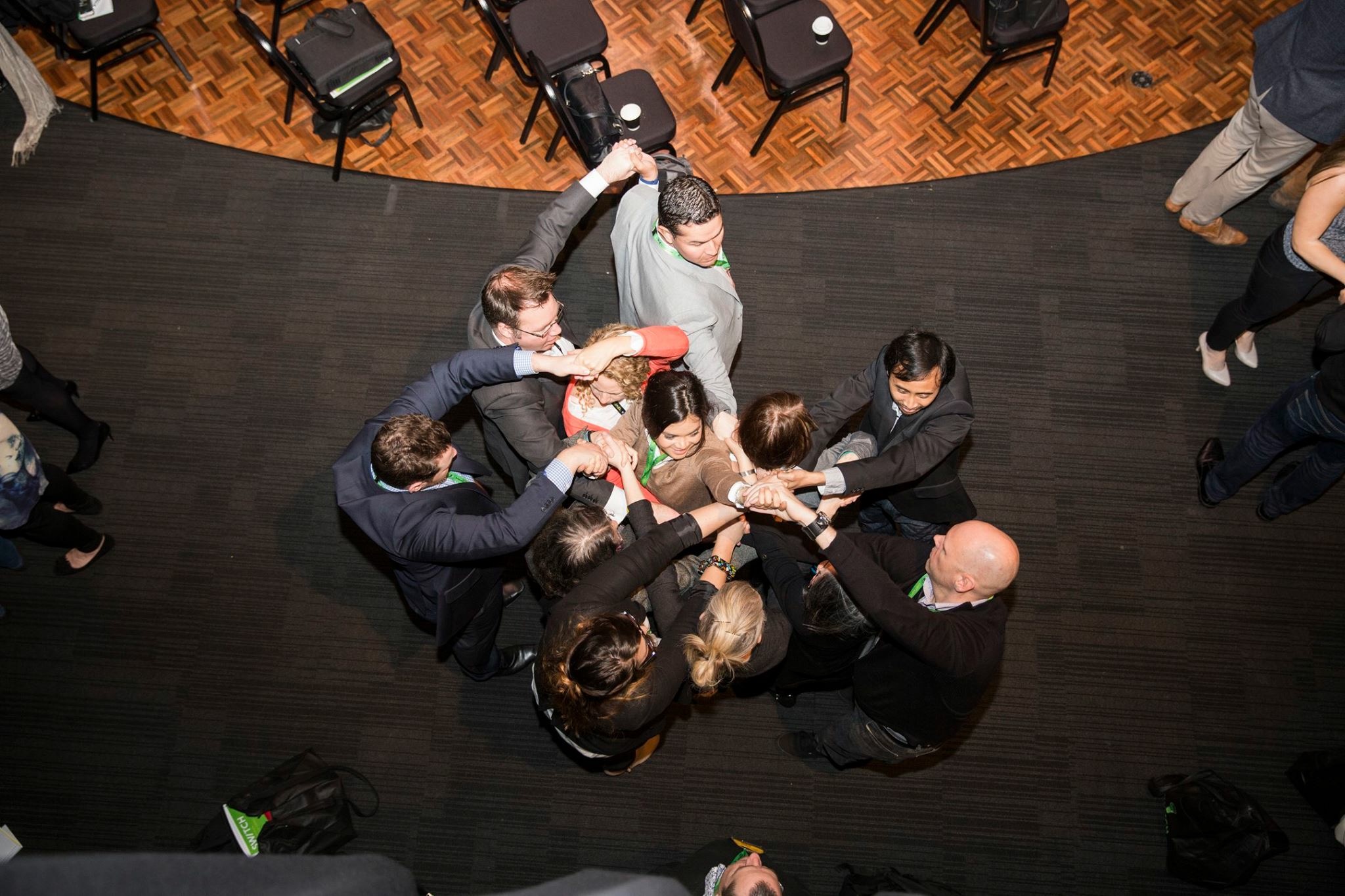 Group size: 40 – 200 pax
Playtime: 1h
What:
Combined with a futurist talk by Future Crunch, this workshop is designed to remix the use of different technologies. It gives participants a visceral experience of just how quickly small teams of people can come up with world-changing ideas.
How:
This workshop explores and excavates the landscape of where technological innovation meets established industries such as media, manufacturing, energy and health. It's a living, thinking event that uses game mechanics and future scenario design to unleash the imagination of its participants while teaching how to integrate concepts in relation to the systems they span.
We begin by giving a broad overview of the technological intersections and their potential impacts on a specific sector. Then the true fun and creativity starts! Up to 200 people from mixed sectors prototype some potential agents for change. In groups of 2 we dive into a technology of your choice. In groups of 4 we prioritise relevance of different aspects you discussed. In groups of 8 we begin integrating different technologies in order to come up with radical new possibilities. Throughout the workshop – like by magic – you will create a geometric shape containing the peaks of your thinking. Expect spontaneity, bouncing messengers, human knots, inspiration, and mind expanding ideas.

The Superhero Card Game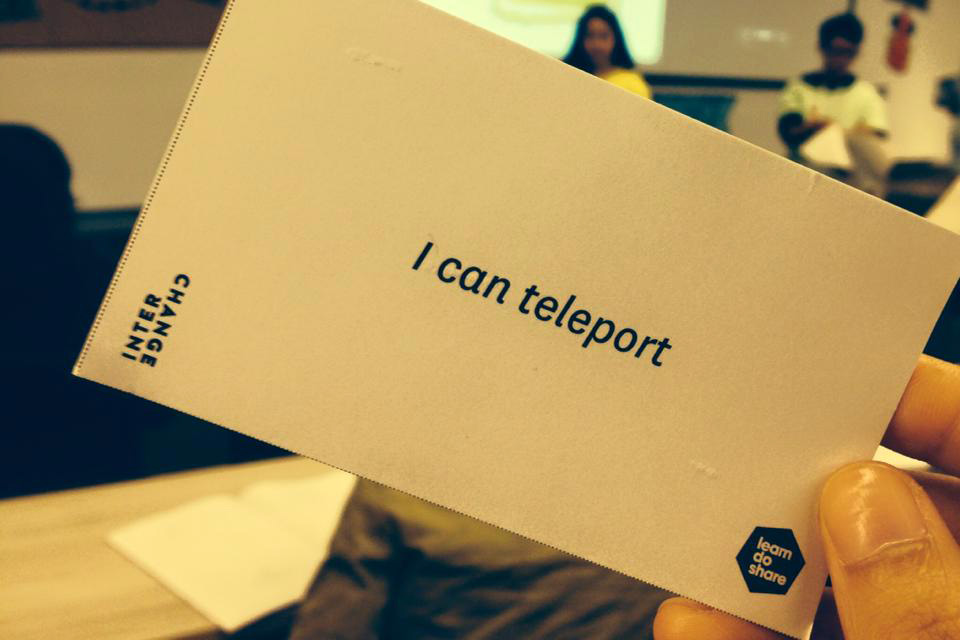 Group size: minimum 10 pax
Playtime: 5 Min intro, played across breaks, 10 min framing, ideally leads into a self-inquiry game (ask us)
What:
The game objective is to give insight into our life journey and empower confidence in our personal capacity and creativity. Learn to be vulnerable and experience others' openness.
How:
Play this game with a group as an icebreaker or as an energizer to make people talk casually and intimately to learn something about themselves and their peers. We hand them out during a break and ask people to swap until they have their favourite.
Back in the group we ask who is ultimately happy with their card. Usually, a few are, but most are not. It's an analogy to life. You cultivate talents and skills, but more often than not lose them to market demands. By retrieving our superpowers we can adjust our path as we go, contributing our best to the world.
Played at: University of Technology Sydney, SW/TCH Festival Sydney, re:publica Berlin, This is Not Art Newcastle, Parsons New School of Design NYC, OUI Share Paris

Sherlock Holmes & the Internet of Things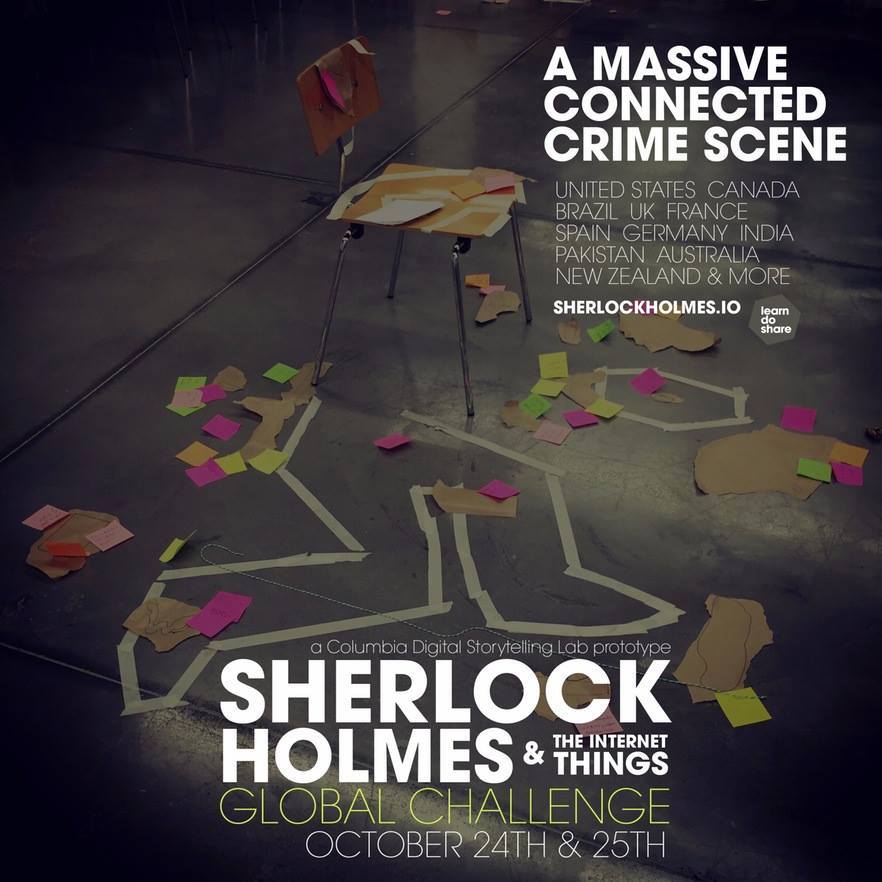 Because life is a mystery we experiment with a detective story to prototype ways of intuitive and associative collaboration. Lance Weiler initiated Sherlock and the Internet of Things at Columbia University and invited me to contribute lectures and methods.
It is an epic project spanning a MOOC, various collaboration platforms and international IoT/IoE collectives as well as storytelling meetups. The Massive Online Offline Collaboration) is an ongoing prototype with meet-ups in close to 20 cities, 1000+ collaborators from over 60 countries. The pilot MOOC creates a massive connected crime scene consisting of smart storytelling objects. Teams take on roles from the novel to create, design, build and test prototypes in local and global groups. They explore the ethical and political implications of IoT. By creating shared assets collaborators raise questions on shared authorship and ownership, which ultimately leads them to engage with new concepts. A transition to the commons as a way of exchange is one example.
Here are some of the most interesting reads abut the project:
– https://medium.com/sherlock-holmes-the-internet-of-things/bridging-the-physical-digital-worlds-b7f9574a9839
– https://medium.com/sherlock-holmes-the-internet-of-things/welcome-to-sherlock-holmes-the-internet-of-things-aac6f7ea9693

Be.Poietic.Punks.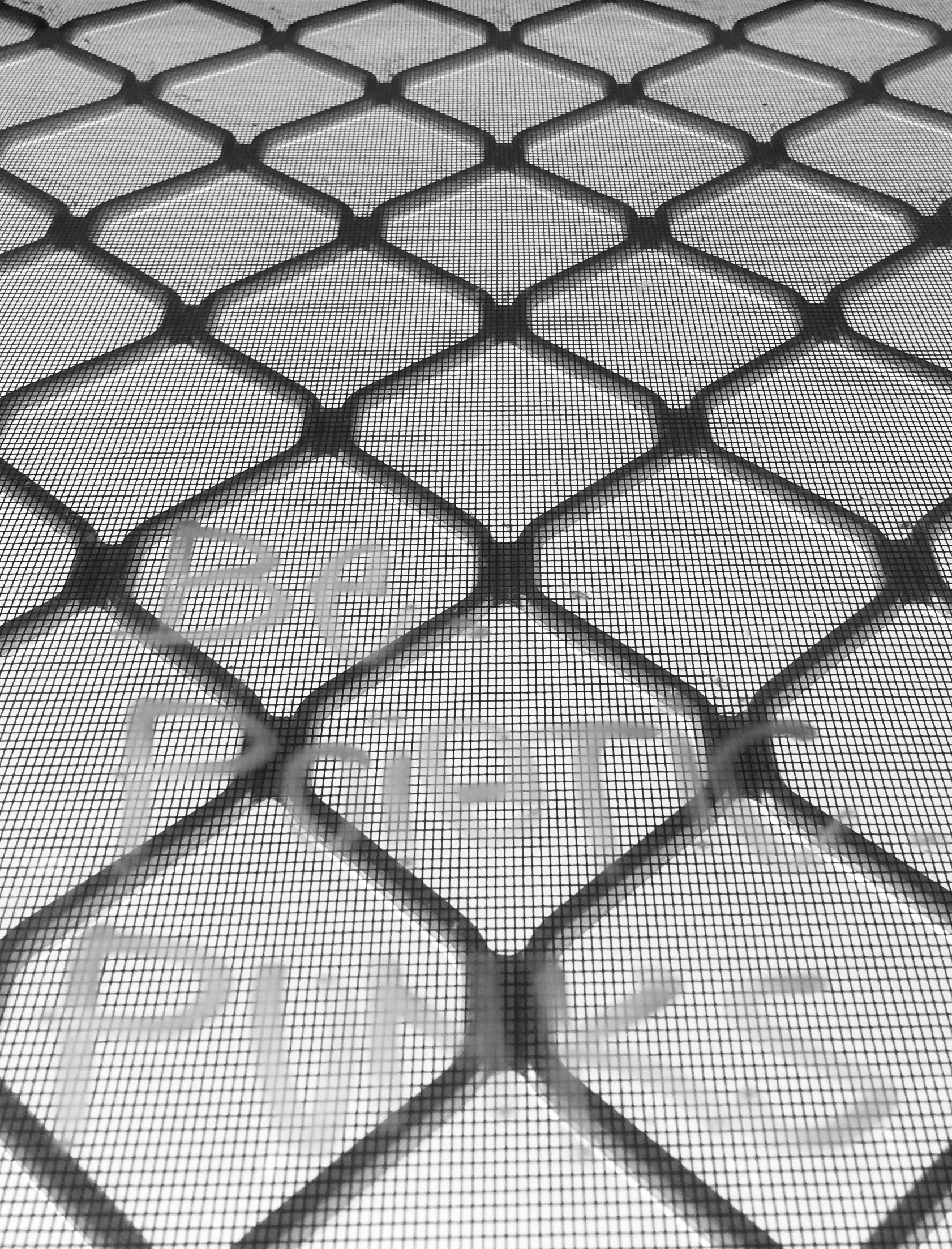 This anarchic game is all about exploring poiesis. This culture hacking game is designed to give people an experience of their political agency with the aim to elicit associative ways of co-creation.
Part 1 is a sci-fi card game employing anarchic collective problem solving fusing sci-fi storytelling, speculative design and rapid prototyping. In part 2, participants create an "exquisite corpse" style wall carpet, representing a remixed story of the project that was prototyped in part 1 of the game. At the end, dancers and musicians perform an ad-hoc choreography based on the wall carpet story.
The process throws everyone into disorientation, intense time boxing, and lots of laughter. We simulate process as something largely unplannable, and I'm interested in testing how people react to embracing such chaos, giving up their instinct to control the environment. The whole game is a mad challenge to trust intuition and associative reasoning.
Played at: This is Not Art Newcastle
Read report

Enter the Tengu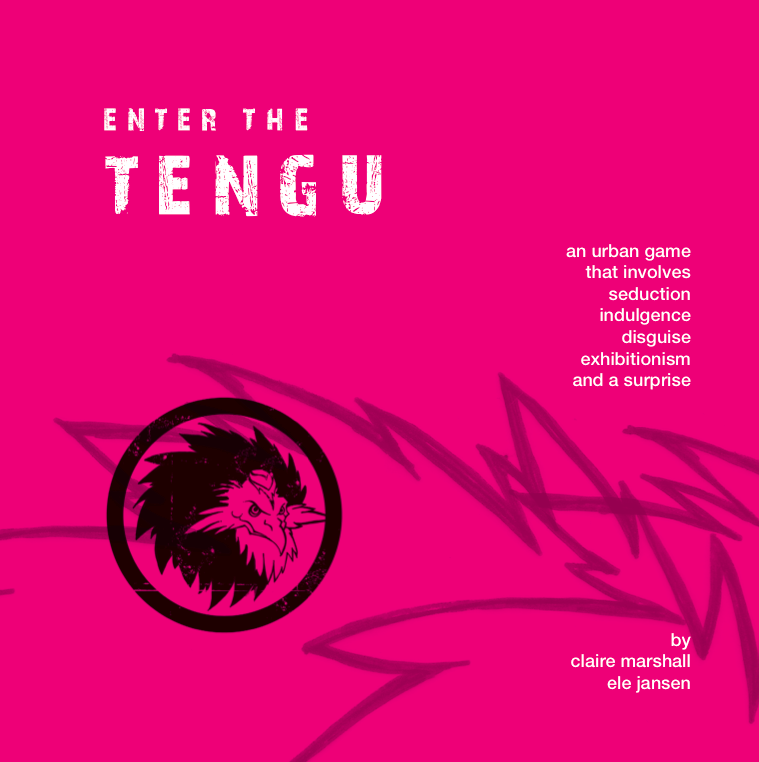 Enter the Tengu is an urban game, a digital scavenger hunt that uses technology and other objects to lead two players from a mysterious starting point to a locked treasure box at the end of the journey.
Tengu are a class of supernatural creatures. Long held as demons and harbingers of war, their image softened into one of protective, if still mischievous, spirits of the mountain forests. Tengu have been called arrogant, mischievous, self-centered and dangerous; their appearance being a bizarre combination of human and bird with fearsome eyes shining with the mischief. They enjoy spreading chaos and confusion among humans, punishing the vain, kidnapping the foolish and playing on the weak.
However, the Tengu's way – as resentful as it seems – bears an important lesson. They serve as mentors to humans they find worthy. They remind us that we should be free to do what we want, be playful and take ourselves and out surrounding not too seriously.
This game was designed by myself and Claire Marshall as a surprise for Jordan Bryon for her 30th birthday. It began White Rabbit Gallery in Sydney – and lead the participants through the back streets of Chippendale to visit unusual locations, meet interesting people and encourage their inner Tengu to break free.
Download prototype: Tengu_130222_Case Study